Distrocards
Distrocards


Genre
Arcade
Latest release
1.5.0 Alpha
Release date
December 25th, 2019
Developer
Yutyo, Mercode Community
Code license
GPLv3[1]
P. language
Contribute
Distrocards is a free game. This means that the source code is available to be studied, modified, and distributed. Most projects look for help with testing, documentation, graphics, etc., as well.
Distrocards is a GPL v3 licensed libre memory card game based on HTML/JS, which features several GNU/Linux distributions
Features
[
edit
]
There are 3 difficulties in the game, that are:
Easy: 3x4 Cards
Medium: 4 x 6 Cards
Hard: 6 x 8 Cards
Maintenance
[
edit
]
Original repository of the game is maintained by Yutyo but mostly distributed from the fork of Mercode community.
Platform
[
edit
]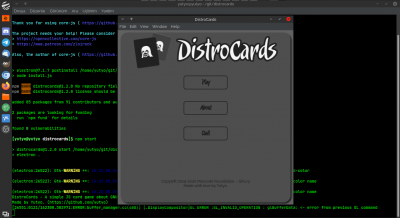 The game is written with HTML/CSS/JS as a web app and deployable with Electron, Deskgap and Webkit2-Launcher. It comes pre-installed at MerOS, a Nix based GNU/Linux distro made by Mercode.
References
[
edit
]