Secret Maryo Chronicles
Secret Maryo Chronicles (SMC) is a 2D platform game with a style designed to be similar to classic side-scrolling games. It uses the platform independent library SDL and, since version 0.98, the OpenGL accelerated Graphics Renderer.[1] The game is developed in C++ and is licensed under the GPLv3.[2] As of 2009-11-27, the latest version of SMC is 1.9 released on August 17th, 2009.
Development history
[
edit
]
The first beta (0.27) of what is now called Secret Maryo Chronicles was released in January 2003 under the name Super Mario Clone FX. This release featured characters, enemies and sounds ripped directly from Super Mario World, with a new game engine and original levels.
In version 0.4 (February 2003), an in-game level editor was added, making it possible to pause the game, edit the level, and then finish the level in its changed form.
In version 0.95, the name was changed to Secret Maryo Chronicles, and most of the sprites were replaced with original sprites of the same characters. Also many sounds were replaced. The removal of Nintendo assets was to avoid possible legal issues, as well as to make the game more unique, and therefore more marketable.
In version 0.98, many sprites were replaced with original characters, roughly based on Mario.
Version 1.0 was released in July 2007 and came with many new features including text boxes and level warps.[3]
Version 1.2 was released on October 18 2007.
In May 3rd, 2008, 1.5 was released.
September 27th, 2008 saw the release of 1.6.
Version 1.7 was released on December 25th, 2008.
Version 1.8 was released on April 8th, 2009.
Version 1.9 was released on 2009-08-17
Possible legal issues
[
edit
]
Although most of the media in the game has been replaced with allegedly original, at least its title is viewed by some as a probable trademark infringement. For instance, as of 2009-11-27, the game is in the Fedora Games SIG's list of games which they will not package.[4]
Gameplay
[
edit
]
Mechanics
[
edit
]
SMC is very much like the Super Mario platform games in almost every respect. The main character is Maryo. The goal is to get to the end of the level, while collecting as many points as possible. He can power up using mushrooms, fire plants, ice and ghost mushrooms and stars. Maryo can also store extra power-ups in a box at the top of the screen, similar to Super Mario World. Maryo faces many enemies based on enemies in Super Mario World, including Gumba, Turtle and Thromp. The current version also features a giant Turtle as a boss character, with more bosses planned for the future.
Currently, the game features four worlds, containing eleven, two, seven, and seven levels respectively. These are loosely tied through an over-world map. There are more worlds planned. Recent versions also include many fan created levels, including recreations of Nintendo.
In the install package, there is no level music, only sounds to keep the file size down. There is an additional download which provides the music.[5].
Planned for future versions are water, a story and a flying powerup[6]as well as new bosses, new enemies and an improved engine.
Version 1.9 will include a new enemy type called spikeball.[reference required]
It is planned to make a level packaging system due to their large size.[reference required]
Also a new animation system is planned beside some smaller fixes and improvements.[reference required]
Level Editor
[
edit
]
Secret Maryo Chronicles includes an in-game level editor for creating new levels or modifying old levels.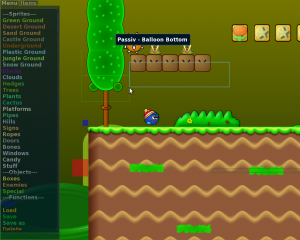 References
[
edit
]
External links
[
edit
]