Tyler Olsen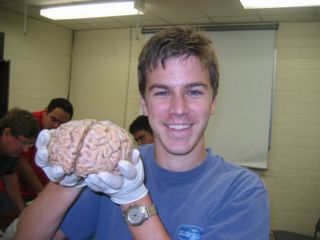 Tyler Olsen (born July 16th, 1982) is a computer engineer holding both BS and MS degrees. He currently resides in Austin, Texas USA.
Tyler Olsen was born in Houston, Texas, USA. He spent most of his childhood in Phoenix, Arizona and graduated from Desert Vista High School in 2000. In August of that same year, Tyler enrolled at Purdue University in West Lafayette, Indiana. In May 2004 he obtained a bachelor's degree of science in computer engineering[1]. He also studied Japanese for three years while at Purdue, and has made significant contributions as a translator to the manga fan scanslation community. Shortly after graduating from Purdue, Tyler began an open source role-playing game project, which eventually came to be known as Hero of Allacrost. Tyler attended The University of Texas at Austin from August 2004 to December 2006, earning his master's of science degree in computer engineering; while also studying neuroscience. He was employed as a software engineer intern/co-op at Freescale Semiconductor off and on through January 2005 to December 2006 while he continued his graduate studies. In October 2007, he began a new job working for National Instruments as a software engineer.[2]
Tyler Olsen is the founder and lead developer of Hero of Allacrost.[3]
References
[
edit
]
External links
[
edit
]
This page is a stub. Please help Libregamewiki by expanding it.