Godot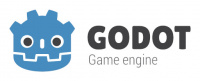 Godot is a visual game development system which is released and maintained by Okam Studio. It supports 2D games and 3D games.[1] It is released under the MIT license.[2]
A number of free games made with Godot is listed in the Category:Godot games.
Features
[
edit
]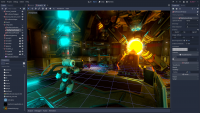 Godot uses a scene-based system for its engine. There are four tabs in the editor: a 2D scene editor, a 3D scene editor, a script editor, and a documentation center. A scene is made of nodes, and every node can be given its own script.
Development
[
edit
]
Godot is maintained by Okam Studio with many contributions from the engine community.
Version history
[
edit
]
The source code was publicly released in February of 2014.
Version 1.0 was released on December 15th, 2014.
Version 1.1 was released on May 21st, 2015.
Version 2.0 was released on Ferbuary 23, 2016.
Version 3.0 was released on January 29th, 2018
Version 3.1 was released on March 13th, 2019
References
[
edit
]
External links
[
edit
]
This page is a stub. Please help Libregamewiki by expanding it.