Rabbit Escape
Rabbit Escape


Genre
Puzzle
Latest release
0.12  ([Another exciting new feature: water. It flows, it can put out fires, but it can also drown rabbits. Be careful! 20 new water levels, making a total of 180! Announcement])
Release date
2019-03-05
Developer
Andy Balaam and the Rabbit Escape developers
Code license
GPLv2 [1]
Media license
GPLv2 [2]
P. language
Java
Library
Android, Template:Swing
Contribute
Rabbit Escape is a free game. This means that the source code is available to be studied, modified, and distributed. Most projects look for help with testing, documentation, graphics, etc., as well.
Rabbit Escape is a game of rescuing rabbits, inspired by Lemmings and Pingus.
Control your rabbits by dropping tokens that give them special abilities.
See whether you can help them survive until they reach the exit!
Choose abilities like bridge-building, wall-climbing and digging, and drop tokens for your rabbits to pick up.
Help your rabbits find their way from the entrance to the exit.
If you rescue enough rabbits, you can go on to the next level.
Create your own levels!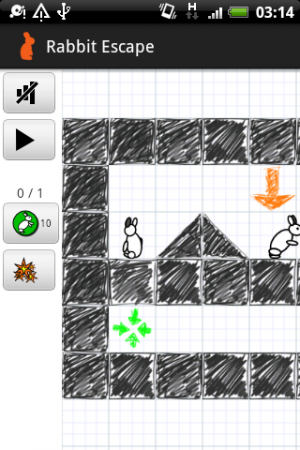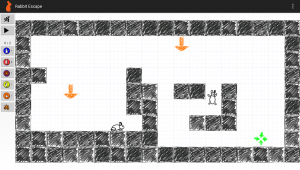 External Links
[
edit
]
References
[
edit
]