Red Eclipse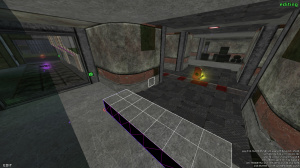 Red Eclipse is a total conversion of Cube 2, featuring entirely free art under CC BY-SA 3.0 or a compatible license. It features many modes like deathmatch, free-for-all, and capture-the-flag. The game has a sci-fi theme and has gameplay similar to Quake-based arena games, with the notable omission of pickups. The game uses OpenGL.
In the past there was a possibility of the game going commercial, so some files were labelled Omitted to default to the included license. It was decided that the default license will be CC BY-SA, so from then on Red Eclipse is completely libre [3] and is now included in Debian main.
Red Eclipse is currently undergoing a conversion to the much more advanced Tesseract engine, with a working version available via Git. Tesseract adds features such as dynamic lighting, improved mapmodel support, improved specular and normal map rendering, support for day/night versions, and more. An introduction to Tesseract's features can be found at its website.
References
[
edit
]
External Links
[
edit
]