Chris Hopp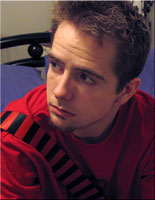 Chris Hopp, also known as fydo, is a software developer and systems analyst living in Alberta, Canada. Hopp is working for the Alberta Provincial Project for Outcome Assessment in Coronary Artery Disease. He is a fan of Python and Pygame. Hopp participates in the PyWeek and Ludum Dare contests.
Games and Contributions
[
edit
]
As a child, Chris Hopp wrote basic games in BASIC. More recent games by him are buggyGame and snakegame.py.
He created graphical assets for Search for the Red Herring, Magic Gardeners Tournament and contributed to the GalaxyMage project.
He also co-founded and is the primary artist for HoleInTheHeadStudios.
He has released some of his graphics under the FAL.[1][2][3]
Hobbies
[
edit
]
Hopp plays video games, board games and role-playing games for entertainment. He also enjoys drawing and playing the guitar[4]. He has also created stop-motion movies.[5]
References
[
edit
]
External links
[
edit
]
This page is a stub. Please help Libregamewiki by expanding it.