Unknown Horizons
Jump to navigation
Jump to search
Featured Article
This article has reached Featured Article status, which means that it has been recognized as one of the best articles on Libregamewiki.
Unknown Horizons


Genre
RTS, Economic simulation
Latest release
2019.1  (Announcement)
Release date
January 12, 2019
Platforms
Windows, Linux, Mac
Code license
GPL
Media license
CC-BY-SA 3.0
Engine
FIFE
P. language
C++, Python
Library
SDL
Contribute
Unknown Horizons is a free game. This means that the source code is available to be studied, modified, and distributed. Most projects look for help with testing, documentation, graphics, etc., as well.
Unknown Horizons, formerly known as OpenAnno, is a real-time strategy game and economic simulation game loosely based on Sunflower's Anno series.[1] The game's source code is licensed under the GPL while its own media is licensed under the CC-BY-SA license and some parts under other DFSG-compatible licenses[2].
The first public version of Unknown Horizons is version 2008.1 released on October 1st, 2008 when it was called OpenAnno.[3]. This was the last release as OpenAnno before the name was changed to Unknown Horizons[4].
Gameplay
[
edit
]
Planned key gameplay elements:
Urban development

Build a blooming metropolis from scratch with residential areas, industrial estates, service trade and lots of sights.

Commodities managment

Organize your resources to feed, extend and defend your growing city.

Diplomacy

Deal with other players to schedule conditions of trade agreements and non-aggression pacts.

Trade

Exchange stock with other players, free traders and local settlements to ensure your stores keeping reserves for the bad times.

Strategy

Painfully trouble your enemies with strategic pinpricks and take advantage of all their little mistakes to solidify your position.

Exploration

Find new islands, trade routes and resource deposits to raise your city's wealth and extend your reach.
Development
[
edit
]
The game uses the FIFE engine and is written in the C++ and Python programming languages using the SDL library.[5]
There is an extensive design document detailing everything from the menu to the individual units in the game.[6] The project's existence can be traced to July 11th, 2005 when OpenAnno was registered on SourceForge.net.[7]
There have been multiple attempts to involve new developers through posts on various German and English forums.[8] [9] [10]
As of 2020[11] the game is being ported to the Godot engine and it is not expected that a new version will be released before 2021.
Contributors
[
edit
]
The development team of Unknown Horizons changed over the years. Numbers vary between 11 and 39 for the core repositories[12] [13] [14].
A list of contributors is found at the project bugtracker[15].
Milestones
[
edit
]
Content
[
edit
]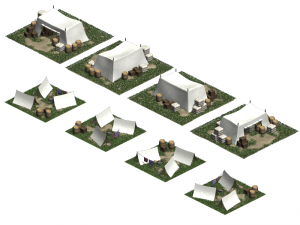 Most of the graphics in Unknown Horizons are 3D model renders.
Availability
[
edit
]
References
[
edit
]
External links
[
edit
]