TuxKart
TuxKart



TK 0.4.0, the first track: "Tux Tollway"

Latest release
0.4.0
Developers
Steve Baker, Oliver Baker
Code license
GPL
Library
PLIB
Contribute
TuxKart is a free game. This means that the source code is available to be studied, modified, and distributed. Most projects look for help with testing, documentation, graphics, etc., as well.
TuxKart is a racing game featuring the Linux kernel mascot, Tux. It was written by Steve and Oliver Baker. The codebase was eventually forked by the GoTH development team as the basis for SuperTuxKart.[1] It is licensed under the GPL.[2] The latest version of the game is 0.4.0. It uses PLIB, a game development library.[3]
Gameplay
[
edit
]
In TuxKart the player races against 5 computer AI racers on 6 different courses, and can choose between 1 and 20 laps per race, however, when the player finishes a race, the game quits.
Development
[
edit
]
This is Steve Baker's second major game, after Tuxedo T. Penguin: A Quest for Herring, and was the first which he created alongside his son Oliver Baker. Oliver designed some of the race tracks, most notably one that is a recreation of his fifth grade math class, which was created because they gave a presentation to that class and wanted to surprise them with a detailed model of the actual classroom the presentation was being given in.[4] After he and Oliver completed their work they considered the project completed.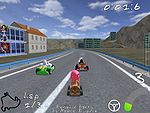 However the Linux Game Tome Game of the Month team decided to host a month of intensive effort to improve the game. According to Steve Baker it "sounded like a good idea - but in fact they totally screwed up the entire thing and ended up with a game that wasn't even playable. I backed out all of their changes and restored the project to it's original state."[5] Meanwhile the Game of the Month team forked the original code into a short lived project called SuperTuxKart.
In June 2006 Baker was approached by parties interested in trying to revive SuperTuxKart. Baker did not participate because "I have other OpenSource projects that matter more to me now" but did note "I wish them well - TuxKart is long overdue for a polish since graphics cards are about 1,000 times faster than they were when TuxKart was written!"[6] This project is now responsible for the modern version of SuperTuxKart.
References
[
edit
]
External links
[
edit
]
This page is a stub. Please help Libregamewiki by expanding it.